---
If anyone had told me early in my marriage that at 38 years old I would have four kids and be in the best shape of my life, I would have never believed them!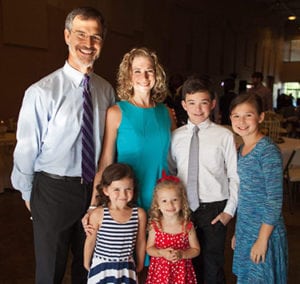 Our first five years of marriage gave us two kids and terrible eating habits with little to no exercise. I typically worked 3-4, twelve-hour night shifts a week, and Jim was in the prime of his coaching career with Freshman Football, Cross Country, & Track. We never exercised unless it was a weekly walk with our then two kids when we both managed to be home at the same time. Our typical dinners consisted of frozen pizza, creamed-style corn, and fast food. (Thinking back to this makes me ill!) In addition to my unhealthy eating habits, I drank 1-2 large McDonald's Cokes with no ice every day! Jim ate cafeteria food for lunch and rarely ate a vegetable (unless my mom fed us).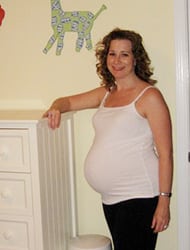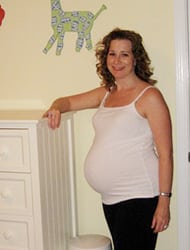 Before I had baby #3, I began taking a Pilates class two days a week, but didn't change my eating habits. Despite feeling stronger and losing a little weight, nothing had changed in the kitchen. I gained back all the weight, plus some [more] with pregnancies 3 & 4, and my stamina and self-confidence went out the window. The summer after our fourth baby was born, we frequented multiple restaurants multiple times a week and were teaching our kids horrible eating habits.
Jim had heard about a former student and his wife (Mike & Erica Hill) starting their own business called Fusion Fitness and he began attending the Men's Camp in July 2013. In the years since, he has continued to work out every Monday & Thursday night with Mike & company. He attends Power Cardio when his schedule allows it (sometimes we both attend – it makes a wonderful date night)!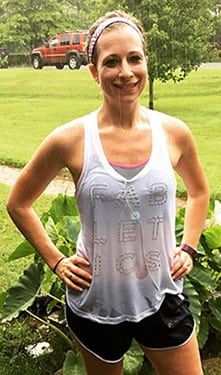 I began my Fusion experience by attending Fusion dance classes. I felt out of place in the beginning, because I am by no means a dancer, but quickly fell in love with Erica's contagious energy.
Erica then advertised a Nutrition Seminar. We attended the first one and this is when we started seeing dramatic results! No more Cokes, no more fast food, no more creamer with a little bit of coffee, and of course we started eating vegetables (and liked them)! I then tried out the Women's Boot Camp and remain dedicated to it at 5:15 AM, twice a week for nearly two years.
The kids have all enjoyed Kid's Fusion as well. They still eat the occasional frozen pizza for dinner on busy nights, but always eat veggies with it.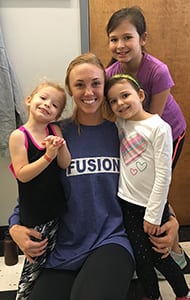 Jim and I have learned how to cook and eat 'real' food for all our meals. Being stronger & fitter has allowed us to keep up the pace with working and having 4 kids & 2 dogs. What is our end goal? To encourage everyone, with our story and example. To quote Christian & business writer, Matthew Kelly, we want to become "the best versions of ourselves." We owe it to each other, our family, and our God.
First Class Free!*
Give Fusion Fitness a try…
---
*One free drop in class, valid for new clients only
Enroll in My Healthy Goals
Sign Up to Receive More Valuable Health & Fitness Info