As 2016 draws to a close and everyone starts talking about goals and resolutions, I would like to take this week to give you a couple examples of "keeping it simple."
When you start to feel a little overwhelmed about where to start in your health and fitness changes, think smaller! This week, let's choose one nutrition S.M.A.R.T. goal, and next week, we'll add in one fitness S.M.A.R.T. goal.
Let's turn "I need to start eating breakfast" into a S.M.A.R.T. goal:
Why are we choosing this goal?
Breakfast breaks the long overnight fast. That's literally why it's called "breakfast!" Having a morning meal jumpstarts your metabolism, mood, mind, and energy.
People who eat breakfast within the first hour of waking:
---
Have more energy

Are less likely to overeat at meals later in the day

Perform better at school and work

Sleep better at night

Learn faster

Are more creative

Pay closer attention & are more focused

Score better on memory tests
9 out of every 10 people who lose weight and keep it off eat breakfast almost every day. Breakfast skippers are 4x more likely to gain weight! Now don't go and grab a donut and coffee and think that will do you any justice. For breakfast shoot for a trio. A combination of a dairy or protein, a fruit or vegetable, and a whole grain is a great way to start your nutritious day.
Making your goal S.M.A.R.T.:
"Starting this weekend, I will prepare my week ahead to eat breakfast a minimum of 5 days per week."
Tips for Success
• Prep your breakfast so that it is waiting on you when you wake up
• Include the family in your efforts
Note positive changes. After a week or two, are you waking up starving? Yes, great! That means your metabolism is waking up and you are establishing good eating rhythms.
Slow Cooker
Vegetable Omelets
Ingredients:
6 eggs, 1/2 cup egg whites
½ cup skim milk
Sea salt and pepper to taste
1 tsp each garlic powder & chili powder
1 cup broccoli florets
1 red bell pepper, finely chopped
1 small red onion, finely chopped
1 garlic clove, minced
½ cup finely diced green onions
½ cup reduced fat feta cheese
Directions:
Lightly spritz crockpot with olive oil to coat. In a large bowl, whisk together wet ingredients & spices. Add broccoli, peppers, onion, & minced garlic to crockpot & pour in egg mixture. Stir, cover & cook on high for two hours, checking at 1.5 hours as slow cookers can vary.
Banana Oats
Pancakes
Ingredients:
2 cups oats
1 1/4 unsweetened vanilla almond milk
1 large banana
1/2 tsp cinnamon
1 tsp vanilla extract
1 1/2 tsp baking powder
2 tbsp ground flaxseed
1 egg
Directions:
Blend all ingredients except egg in blender until consistency is like batter. Add egg and pulse a few times until incorporated. Heat griddle or large pan over medium high heat. Pour batter on hot griddle, scooping with 1/4 c measuring cup. Cook 2-3 minutes on each side until bubbles form.
Use fresh berries mixed with stevia and heat in microwave for topping.
---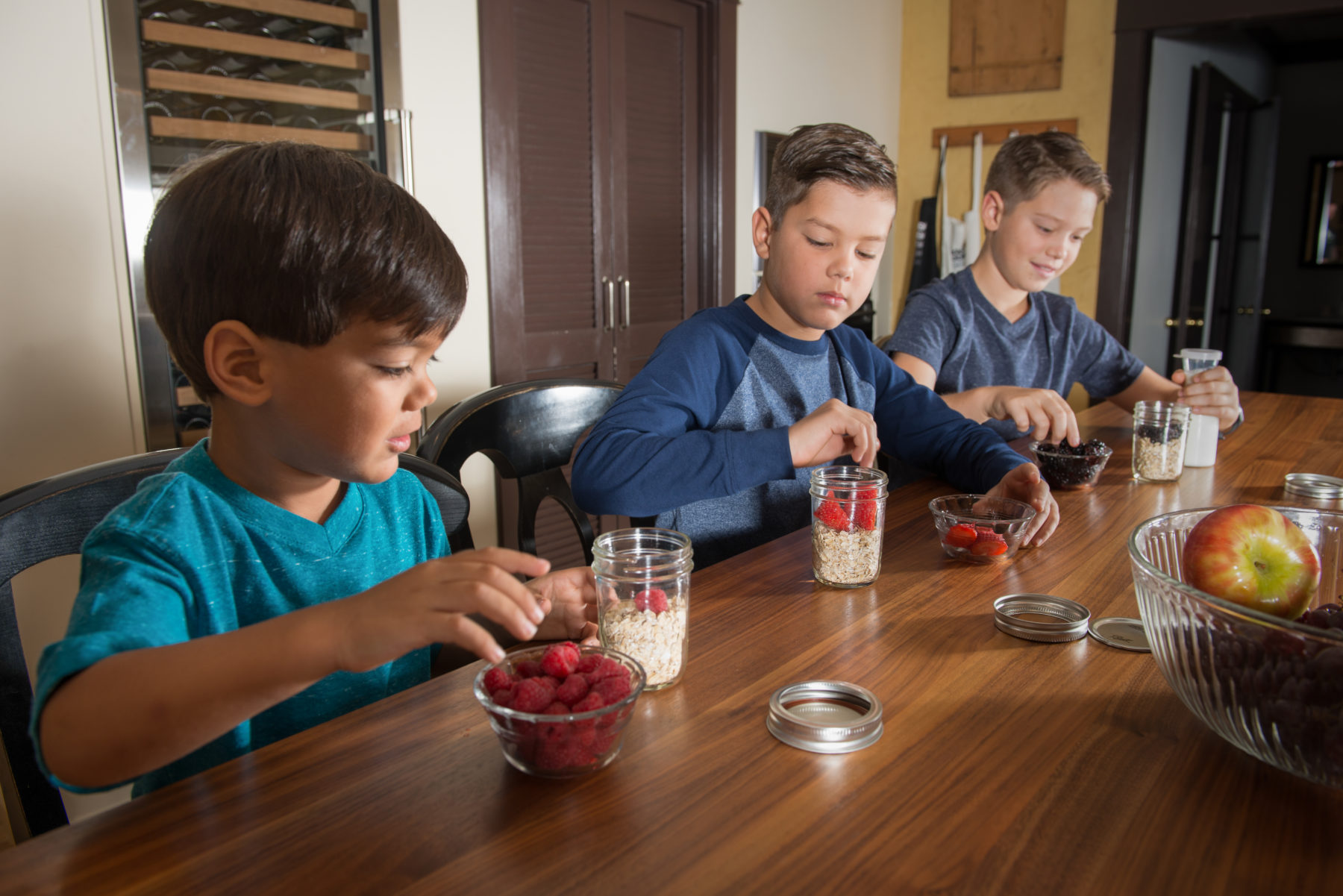 Breakfast Parfait Jar
Ingredients:
(Overnight oatmeal)
1/4 cup oats
1/4 skim or unsweetened almond milk
1/4 tsp vanilla extract
1 tsp ground flaxseed
Dash of Cinnamon
(Ad-ins)
1/2 cup plain Greek yogurt
1/2 cup diced strawberries
1/2 cup blueberries
1/2 tbsp natural PB or natural almond butter
Directions:
The night before, make overnight oatmeal by placing oats, milk, vanilla, flaxseed, and cinnamon in a jar or bowl. Stir, cover and leave in fridge overnight. (Don't cook oats)
In the morning, layer 1/4 c yogurt, 1/2 of berries, oatmeal, PB, 1/4 c yogurt, and remaining berries. Sprinkle with more cinnamon. Enjoy on the go! You can use a variety of berries. If you don't like this recipe cold, heat overnight oatmeal mix that morning before layering.
Fruit Smoothies
Prepare these different smoothie packs in a quart size bag, label, and store in freezer. Once ready to make, just add 1 cup of skim milk or unsweetened almond milk & ice for easy on-the-go snacks! *Frozen bananas are great to add thickness to any smoothie!*
Green
1 banana
2 cups spinach
1 tbsp natural PB
1/2 cup plain Greek yogurt
Sunrise Green
2 cups spinach
1 cup diced strawberries
1 cup blueberries
1/2 banana
2 tbsp milled flaxseed
Peachy Green Smoothie
1 banana
1 peach, diced
1 cup spinach
1 tbsp milled flaxseed
1/2 cup plain Greek yogurt
Double Green Smoothie
1 banana
1 cup spinach
1 cup kale
1/2 cup mixed frozen fruit
1/2 cup plain Greek yogurt
---
Or, if all else fails, grab a piece of toast with peanut butter and a banana on your way out the door! You've got this!!!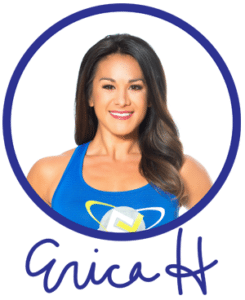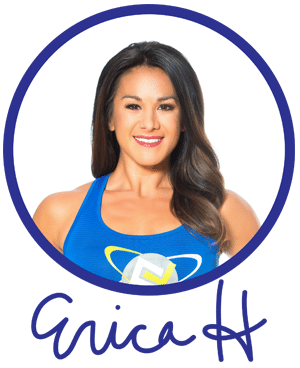 Sign Up to Receive More Valuable Health & Fitness Info