We often hear…and I even say it often–"Food is Fuel"–and it sure is. Healthy, nutrient-dense foods give us the carbohydrates, proteins, fats, vitamins, minerals, and water that our bodies depend on to keep us going strong. Food is our fuel and we need to make sure we are not running on fumes at any part of the day. As much as it is important to understand how food fuels all of our bodily systems, it is also important to acknowledge that we are not robots, and food is more to us than just fuel. Food is social, emotional, nostalgic, mental, and physical. And that is OK and normal! Food is a huge part of our lives. We do not want to view food SO literally as fuel that we develop a disconnect with food. We can still enjoy social gatherings by bringing a healthy, clean, and YUMMY dish such as stuffed peppers or fresh veggies to a gathering. We can sit in the nostalgia and emotions of the "ahhhh" of Fall as we enjoy some pumpkin oatmeal in the mornings with our coffee. We can use our mental game to think of ways to make baked goods more healthy by leaving out the unhealthy oils and substituting them with milled flax seed and natural applesauce. We can happily feel the physical rewards of continuing to fuel our bodies with the nutrients they need if we continue to find tools to help us enjoy our healthy lifestyle.
October is a time of year that brings that cozy "Fall feeling," FOOTBALL, sweaters and boots, and get togethers with friends and family. And some of that "ahhh" feeling about Fall might be "mmmm" about Fall food. That's right…it's ok to get excited about Fall food and the feelings you have about some different meals hitting your family's kitchen. Eating happy, and in an exciting way, while keeping it clean, whole, nutrient-dense, and healthy for you and your family is something I want to help you with.
I encourage you to involve your household. Everyone loves a Fall craft so why not craft up a Fall meal together! Everyone can do their own skill-, age-, and interest-specific task in the creation–everything from simply washing any fruits or vegetables for the meal, to chopping, cooking, and serving.
It is a perfect time of year to spread your love of a healthy and feel good life to your coworkers, friends, and family. Here are a few recipes that my family enjoyed this month as we welcomed Fall: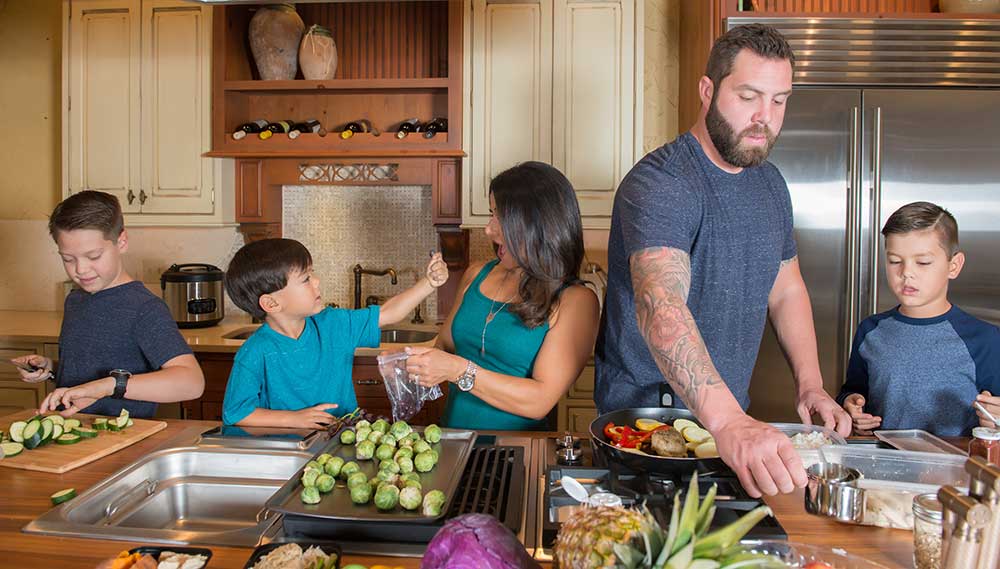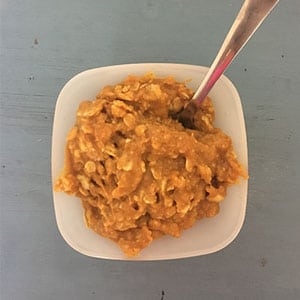 Crock Pot Pumpkin Oats
Ingredients:
1 cup steel cut oats
3 cups water
1 cup canned pumpkin puree
1 teaspoon vanilla extract
1/4 teaspoon salt
2 teaspoons pumpkin pie spice
optional: 1/2 cup honey or 2 teaspoons liquid vanilla stevia
Directions: Cook in crockpot on low 6 hrs.

Or the quick option if you don't have 6 hours:
Pumpkin Egg White Oats
Ingredients:
½ cup dry old fashioned oats
½ cup canned pumpkin
½ cup liquid egg whites
1 tsp each cinnamon and nutmeg
Directions: In a large bowl, stir together oats, pumpkin, egg whites, spices and ½ cup water. Heat in microwave for 2 minutes or until desired consistency is reached.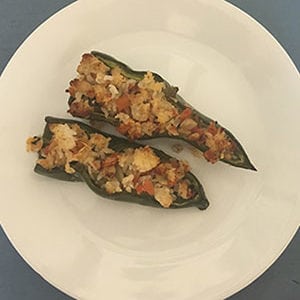 Stuffed Poblanos
Ingredients:
4-6 large Poblano peppers
3 to 4 cups of cooked white rice
1 can diced tomatoes (do not drain)
1 cup diced Onions
1 cup diced bell peppers (you can substitute jalapeno peppers, or use both)
1/4 cup diced cilantro
1 tsp granulated garlic
1/2 tsp ground cumin
1 tsp sea salt
1 tsp black pepper
Directions: Combine rice, tomatoes (do not drain), onions, bell/jalapeno, cilantro, and spices into a mixing bowl. Cut poblano peppers lengthwise down the middle and put on cookie sheet. Spoon the rice and veggie mixture evenly into the peppers. Place in oven at 350 degrees for 15-20 minutes, or until peppers are soft to touch.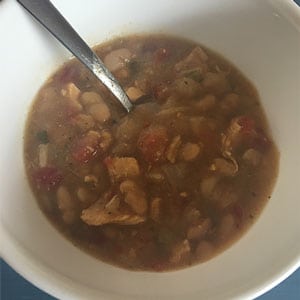 White Chicken Chili with a
Cauliflower Garbanzo Bean Base
Ingredients:
3 cans of Great Northern Beans
2 cans of Garbanzo Beans
1 head of steamed cauliflower
1 can of diced tomatoes
3 bell peppers
4 large chicken breast
24 oz. low sodium chicken broth
1 tbsp. ground cumin
1 tsp chili powder
1 tsp paprika
1 tbsp black pepper
sea salt to taste
Directions: Combine 1 cup of chicken broth, steamed cauliflower, and garbanzo beans in a blender and puree. Along with the remaining broth, combine all other ingredients into a large crock pot, and cook until chicken begins to shred apart when stirring. Great meal to put together before heading out for the day.
Sign Up To Receive More Valuable Health & Fitness Info!