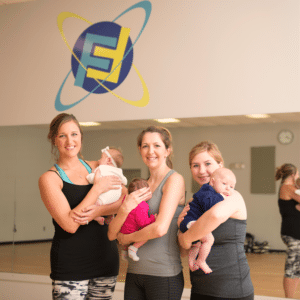 Congratulations! You are now carrying your precious baby in your arms after carrying him or her in your belly for 9 months. You are in one of the most wonderful, but also most challenging seasons of life. In all seasons, when you continue to prioritize your health and fitness, everyone around you–especially your little baby who depends on you for everything–benefits tremendously. Your body has been going through major changes for almost a year! Receiving the tools for an empowering recovery is something that every mother deserves.
During your days and nights with a newborn, running on little to no sleep, it is vital to fuel your body with fruits, vegetables, whole grains, proteins, and healthy fats to keep your blood sugar levels steady and to promote overall health. Eating a balanced diet will also aid in emotional wellbeing and cognitive function throughout the day (and when you're awake in the middle of the night). This is the period of time when making sure that your body gets all the nutrients it needs is of the utmost importance. Whether you are breastfeeding or formula feeding, your body is working hard to care for you, your new baby, and the rest of your family. If you are breastfeeding, you are not only responsible for providing your own body with all the nutrients it needs, but also your child's! It is through the foods we eat that we have the opportunity to give our bodies what they need throughout the day. In this time of many life, body, and hormonal changes, as you welcome your baby into your life, eating whole and nutritious foods and giving yourself an adequate exercise regimen will help with your mental, emotional, and physical health as well as your baby's.
When you are exercising, sweating, getting those feel-good endorphins flowing through your body, you're getting a much-needed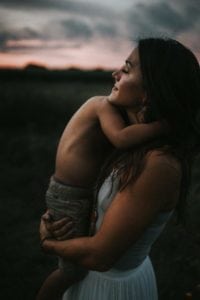 mood booster every day. Giving your core and pelvic muscles some extra attention will help you to feel strong in your demanding role as a mom. It is imperative that you pull the muscles of the core back together and lift the muscles of the pelvic floor back into their upright and taut position. It is also extremely important to develop strong postural muscles and cultivate a habit of carrying yourself with good posture throughout the day. If you never get your abdominals put back together, your stomach will not only stay loose, but your core will not feel strong. Motherhood requires heavy lifting–from picking up that infant carrier, wearing your baby, and carrying your baby as he or she grows from an infant into a toddler–a strong core is essential. Regularly implementing proper postpartum core exercises will prevent back pain and help you to enjoy the active things that you love to do instead of continually feeling weak.
A mother's instincts are always right. Listen to your body–rest when your mind and body say rest. Snuggle and nap with your baby. Do not be too hard on yourself and continually be proud of the great job that you're doing. The long days and nights will quickly turn into years. Enjoy it all. Soak it in. Your baby will feel how you feel–it's important to find your strong and be happy, because both you and your baby deserve that!