Certified Memphis, TN Yoga Instructor
Yoga Alliance RYT-200
Background:
Born and raised in the Memphis area, Sarah graduated summa cum laude from Louisiana State University in 2010, with a Bachelor's in International Studies, a dual concentration in Global Diplomacy and Africa and the Middle East, and double minors in French and English. She's been very blessed to travel all over the world. visiting 24 countries in Europe and Africa since she was 14 years old. After college, she spent a year living in the Champagne region of France, where she taught English to high school and college students. She returned to Louisiana and lived in New Orleans for three and a half years, before moving back home last spring. She completed her 200 Hr yoga teaching certification here in Memphis under Amy Morse with Life Power Yoga, and is trained in short form Ashtanga, Vinyasa, and Slow Burn. When she isn't practicing or teaching yoga, she loves to cook and care for her family, write horror fiction, go out dancing, and shoot zombies.
"I was never a very athletic kid growing up. I played in my church basketball and softball leagues my senior year of high school, but other than jumping around at volleyball, I was always terrible at sports and very self conscious about it. I loved to run and dance around, and that was about it! As an adult, I have found my strong through yoga.
Before I left Louisiana, my best friend dragged me kicking and screaming to a yoga class. All I did was run, and I had dozens of misconceptions about yoga–I didn't think it was exercise, and I was afraid I'd be just as awful at the "poses" as I was at sports. One class later, I was sweaty, exhausted, and totally in love. Yoga absolutely changed my life. I feel stronger and more confident in my body than ever before. The practice, the strength, the serenity I found on the mat followed me off of it. I am a better woman, simply a better person, because of it. I moved back to Memphis to find a purpose, and I found yoga. All I want to do is share what this practice has given me with pretty much everyone I meet.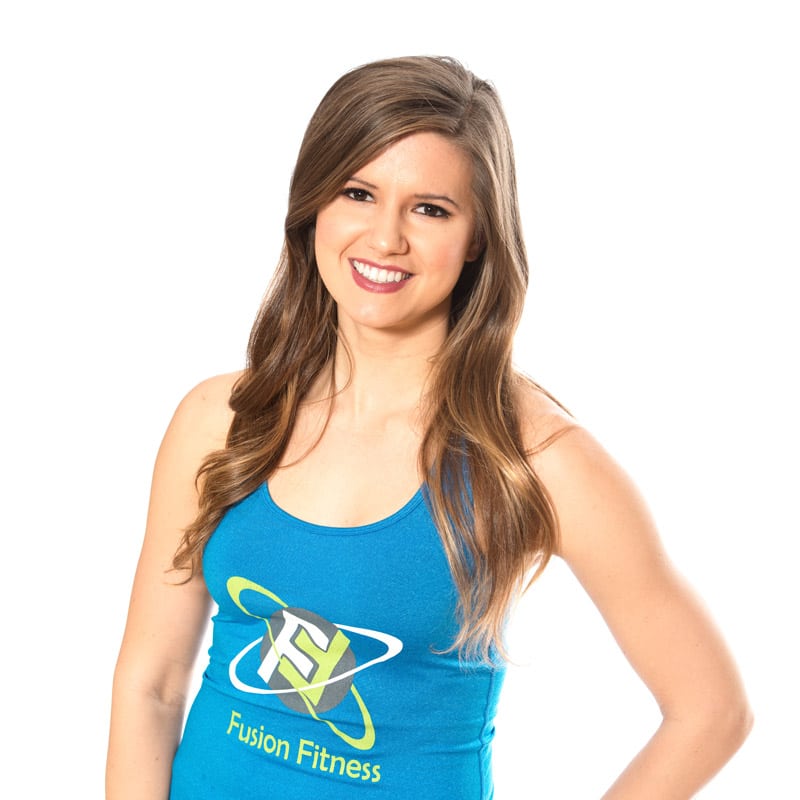 "I'm blessed to have found yoga and to have inherited this position with Fusion Fitness! I love the women and men who work here–their passion and enthusiasm is infectious. The clients here are amazing, and I enjoy dancing at Fusion just as much as I enjoy sharing yoga."
"Namaste, y'all."
-Sarah Burns